Okdo All to Ppt Converter Professional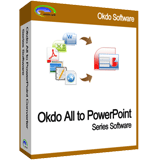 Okdo All to Ppt Converter Professional is a powerful PPT converter. Own the most powerful conversion function. you can batch convert any format file to ppt with ease. The program can convert with high output quality and very fast speed. It supports various formats as doc, docx, docm, xls, xlsx, xlsm, ppt, pptx, pptm, txt, rtf, pdf, htm, html, url, any type image as jpg, jpeg, bmp, wmf, emf, gif, tiff, png, j2k, jp2, pcx etc.
OS Supported: Windows XP, Windows Vista, Windows 7, Windows 8/8.1, Windows 10
Price:

$65.

95

Advanced Features
Simultaneously convert massive different format files to ppt once with ease.
It is a standalone program which does not need Adobe Acrobat software support.
Extract all internal and external links from a web address(URL) and convert each webpage into single file. New!
Custom webpage link depth ('-1' will extract all page links from the web address) when extracting links. New!
Support skip external links when analyzing a webpage. New!
Support the encrypted PDF.
Use default mode to convert pdf to ppt; Extract the character of pdf to convert.
Convert each page content of Word/Rtf to single PPT file.
Set the image watermark.
Convert Word/Rtf to Ppt by custom way; Convert Word/Rtf to Ppt by image way; Extract the character of Word/Rtf to convert.
Support merge each sheet of one Excel file to one PPT.
Support merge multi-URL snapshot images to one Ppt file.
Show TXT file content in multiple lantern slides.
Custom displayed character number of each slide when convert TXT to multi-page powerpoint. 
Support split TXT to multi-page powerpoint using delimiter (eg:~~).
Support split TXT to multi-page powerpoint using blank line.
Support insert footer text to slide.
Custom to adjust the lantern slide size and direction.
Custom to use the image as PowerPoint background.
Convert multi-page pdf to multi-page ppt.
Support merge the converted images to one ppt.
You can load the whole folder to convert.
Automatically extract the converted url address from the input character strings.
Save list: You can save the converted files to a list.
Load list: You can load the converted files of list to convert directly.
Support save output files in the same folder as source files.
Support convert each file to separate directory within output folder.
More...
Key Features
It can convert in batches to improve your work efficiency.
User-friendly interface.
Support add the entire folder to convert.
It can preserve original layout, text, images etc of your file.
Support convert Docx,Docm, Xlsx,Xlsm, Pptx,Pptm of Office 2007/2010/2013/2016/2019 to Ppt.
FREE customer support
If you face any problem while installing or using the Okdo All to Ppt Converter Professional, we are there to provide guidance and technical support. All you need to do is to send us your queries at support@okdosoft.com.
Supported Formats
Input Formats

MS Office Document

Word (*.doc, *.docx, *.docm) Excel (*.xls, *.xlsx, *.xlsm) PowerPoint (*.ppt, *.pptx, *.pptm)


Image File

*.jpg, *.jpeg, *.bmp, *.png, *.tif, *.gif, *.emf, *.wmf, *.jp2, *.j2k, *.pcx etc.


Adobe PDF

*.pdf


HTM, HTML

*.htm, *.html, website URLs


RTF, TXT

*.rtf, *.txt


Output Formats

MS Office Document

PowerPoint (*.ppt)

Screenshot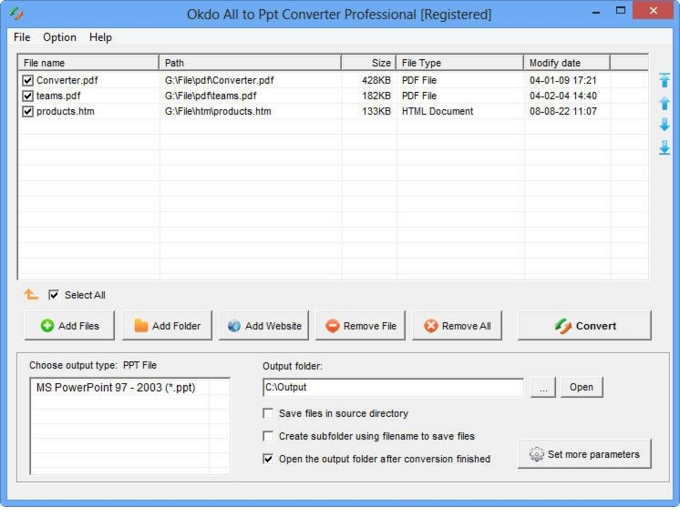 Awards